Admissions
Your child will learn by hands on experiences in centers throughout their class room
February 1, 2023, begins our priority registration for our current students, their siblings, and our active church members.
February 8, 2023, begins Open registration for our community. If you are interested in enrollment in the two's or three's program, you must complete an application and pay the application fee. We accept cash, check or money orders.
If you want to enroll in our VPK program you must complete an application and submit a certificate of eligibility obtained from the Early Learning Coalition of Duval. Go to www.elcofduval.org and you can complete the application process online. We will begin accepting applications on February 8th.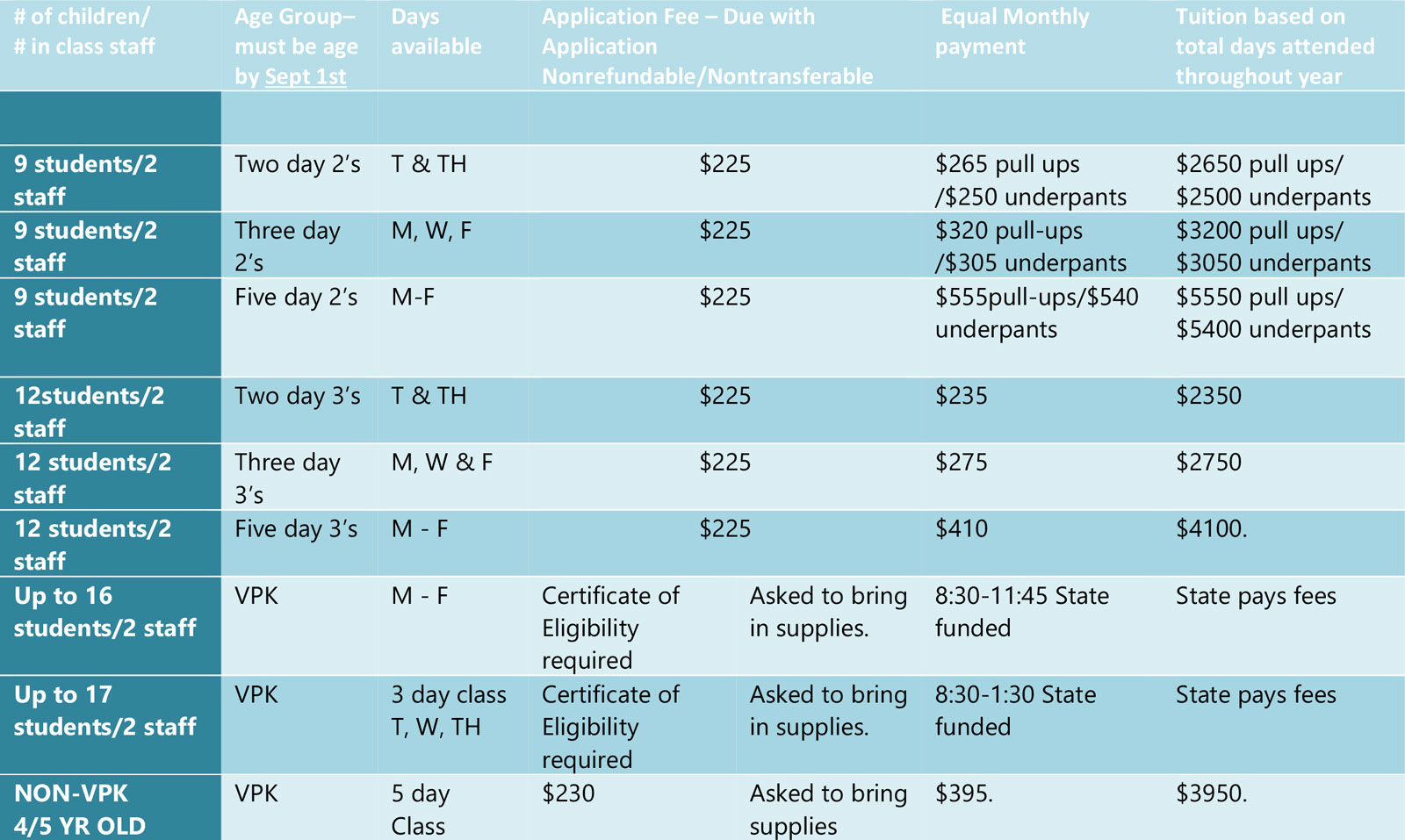 Multiple Child Discounts
FCBA bases tuition and fees on a per-child basis; therefore to maintain our low teacher/child ratios we do not offer reduced tuition. (This applies to our staff as well)
Late Payment Policy
Monthly tuition is due by the 5th of the month. If your tuition is not paid in full on the 5th, a late fee of $25 will be added to your child's account.
Registration Fees (Preschool or Non VPK classes only)
A non-refundable application fee is payable at the time of enrollment. Registration fees are not refundable under any circumstances. If you choose to enroll in our "Lunch Bunch program" There is a $35 registration fee. (Including VPK classes)
VPK Supplies
VPK students are asked to bring in a list of suggested donated supplies.
Payments, Checks, and Returned Check Fees
Cash, checks, money orders, bank drafts, and cashier's checks are gladly accepted as long as they are drawn on a local bank and the date on the check is the same date the check is written. Postdated checks will not be accepted.
In the event, your check is refused for payment or returned there will be a Non-Sufficient Funds (NSF) fee assessed in the amount of $40. Once a check is returned for NSF,checks will no longer be accepted as a form of payment at the center. In addition, services will be suspended until all fees are paid in full.
Late Pick-Up Fees
If Children left past carpool time for their child's class or 2 p.m. for lunch bunch children will incur a $1.00 late fee for every 1 minute thereafter. We will give a 5 minute grace period the first time you are late. These fees will be billed within 5 days and are due upon receipt of the bill. A courtesy phone call will be made by staff.
Holidays
PLEASE NOTE AND UNDERSTAND: The monthly tuition payments are the total annual tuition divided into ten payments. Therefore, if there are fewer school days in a particular month, as in August or December, you are still obligated to pay full monthly payment. Tuition and lunch bunch fees are paid in full each month and will not be discounted. All credits will be applied to the following month's tuition or fees. If there is still a credit after the last month's fees are paid, we will refund the amount to the custodial parent.
Child Health Services-Health exams and Immunization requirements
FCBA is required by the Department of Children and Families to have on file for each child a Physical and an Immunization Record.
We require you to bring in the original forms by your child's first day of school: Physical Examination – Form 3040 (must be complete and is good for 2 years from date completed) and Immunization – Form 680 (must be updated upon expiration date unless it shows Part A 1 complete until 7th grade.)
***We no longer accept religious exempt forms.
Lunch Bunch program Information
➢ Available to our preschool classes and 5 day VPK classes. It runs from the end of the school day until 2 p.m.
➢ Lunch bunch program will not begin until the 1st school day in September
➢ A $35 Registration fee is required to enroll in the lunch bunch program; this is required for all children using this program both those in regular stay and occasional daily stay.
➢ Parents agree to provide a healthy lunch adhering to our nut free policies.
➢ To attend lunch bunch you must be in school by 8:40 a.m. that day.
Occasional Stay fee is $20 per day – Please call ahead to see if space if available.
5 days per week $160 per month
4 days per week $150 per month
3 days per week $140 per month
2 days per week $130 per month
Admission Application 2023-24
Sending my children to Fort Caroline Baptist Academy is one of the best decisions we have made. The teachers and staff are truly amazing and love what they do. They know all of the children by name and greet us each morning with welcoming smiles.
My 6 year old attended the VPK program last year and is now excelling in kindergarten. My 4 year old is currently enrolled at FCBA and comes home each day excited to tell me what he learned through their creative hands on and play based learning activities. I can't say enough good things about this school and staff!
Teachers who love to teach and are always excited to see the kids. They have very good protocols/training plans in place and are always prepared for the kids. They will not disappoint. We will be returning next year and sending our youngest.
FCBA is such an amazing preschool. My son attended VPK here and he had a wonderful year. He has learned so much and I truly feel he is prepared for Kindergarten. The teachers and staff are so genuinely kind to everyone each and every day! I highly recommend this school!!! I can't wait for my daughter to be able to attend next year!
Cannot say enough great things about this pre-school and the staff! I feel very blessed that my child has been able to attend. It will be a sad day when we have to say goodbye to Ms. Debbie and Ms. Peggy.
Cannot thank you enough for being so wonderful!!!! I have known many many children in your preschool as well as my nieces. Your staff is the best of the best and sad to see them leaving you all!
The staff is all super friendly and the building is very clean inviting. My son has only been attending for a few weeks, but he loves it. He actually gets disappointed on non-school days. "No School? How about we just go there for a little bit… please?